Commercial Spray Foam Experts in Oklahoma & Kansas
Healthier Living
Spray Foam acts as an air barrier, and it also helps to reduce moisture infiltration, which is a source of dangerous mold and mildew growth in the home, which can cause severe health problems to its occupants.
Pays For Itself
Monthly energy and utility savings of 30% or greater can be achieved when compared to other types of insulation or roofing. The costs of installing spray foam insulation can be recovered in less than 5 years, simply through energy savings alone.
High R-Value
6.9 R Value
Amazing Thermal Resistance
Superior to any other insulation
Save on heating/cooling costs
Utilizing spray foam technology as premiere insulation or to fix sinking or settling concrete in Greater Enid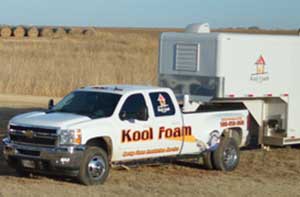 Why choose us?
Specialized, intimate knowledge of the industry
Licensed and insured
High-quality spray foam and PolyLEVEL system
Caring and intelligent technicians
Quick, effective responses and project times
100% satisfaction guaranteed!
Spray foam is an extremely versatile substance, used to solve several common building problems. It works as a highly efficient insulation material, acting as an impermeable barrier and maintaining the temperature inside your property year-round. And having properly installed insulation will lower your utility bills and promote increased air quality indoors.
This material can help with other situations, too, such as foundation needs. Seeing a sinking foundation only causes homeowners worry and hardship. Cracks created by shifting can act as obstacles on a path or driveway, exposing you and your family to dangerous tripping hazards. The cosmetic effect is one of the most unfortunate; as patios, driveways, and sidewalks lose much of their attractive look when parts are sunken below grade.
When it comes to insulation and foundation concerns, investing in preventative maintenance sooner instead of later is key. You're in luck – Kool Foam, LLC is here to help! We have many years of experience with spray foam, and our goal is to leave all customers happy and healthy when we're through. Our membership with Foundation Supportworks helps us carry out these ideals!
Discover the amazing qualities of our commercial spray foam services and PolyLEVEL, a system that uses a top-grade polyurethane foaming agent for a variant of slab-jacking. See how we can help you!
Do you have spray foam needs?
Don't sit idly by while you suffer from a lack of insulation or your concrete descends into the ground. Call us today at 1-580-852-3626 or contact us online to schedule an appointment! We will evaluate your property and determine the best course of action for you! We service residents and businesses in Enid, Ponca City, Guthrie, Woodward, Weatherford, Wellington, Clinton, Newalla, Blackwell, Perry, Alva, Kingfisher, Watonga and nearby.
Commercial spray foam solves insulation troubles and more
If your structure lacks sufficient insulation, you'll be quick to notice drafty rooms, cold floors, and uneven temperatures. The spray polyurethane foam we utilize in our insulation services offer customers a variety of benefits that other options lack. Because it starts as a liquid before expanding and hardening, this substance is able to enter and seal even the smallest of spaces and cracks.
This keeps your conditioned air in the building where it belongs, and the outside weather and pests cannot infiltrate your environment. Since the foam is so efficient and effective as an insulation material, you will notice large energy savings as your HVAC works less and keeps the indoor climate consistent. We can install this insulation in your walls, attic, basement, and ceilings. With spray foam insulation in place, we know you'll have the comfort and peace of mind you deserve!
Polyurethane foam has many other applications, including trench breakers and more. Feel free to ask us any questions about this material and its many uses!
More about the PolyLEVEL method
See for yourself why PolyLEVEL works by watching this video.
In addition to our insulation services, a form of spray foam can be used to restore concrete slabs to their proper level.
The idea of slabjacking is an effective way of lifting sunken concrete, but only when the materials used are optimal for the task.
Traditional grouts that are pumped into the ground tend to be heavy and cumbersome, taking a long time to install and dry. Eventually the weight of certain grouts will weigh down the soil further, exacerbating the original problem.
PolyLEVEL uses a polyurethane substance that reacts and foams underground when injected into the soil. This technique offers many benefits:
The lightweight, environmentally friendly polymer causes minimum disruption to the ground below.
Small, penny-sized holes in the concrete are drilled to inject the polymer, diminishing disturbance on the surface.
Different grades of the substance are available; each are designed to counter specific situations – heavier structures or especially water-eroded soil, for instance.
Just fifteen minutes after its application, the foam attains 90% efficiency and the area is safe for normal usage!
Because of its flexibility, efficiency, effectiveness, and more, PolyLEVEL is the best option for slabjacking – and this is why we specialize in it exclusively at Kool Foam, LLC. With our patented, proven product and installation, you'll be able to return nearly any sinking or settling concrete back to its original position! Search our website to discover more about our process for concrete slab repair!
Revitalize your property today!
Insulation woes and concrete settling are some of the most frustrating things to deal with on your own. Don't ignore them – the consequences will catch up, costing you more time, money, and effort in the long run. Our highly trained specialists are here to help.
Kool Foam, LLC is locally owned and operated and is dedicated to achieving total customer satisfaction. Our skills and niche knowledge make us the top choice to provide insulation or eliminate your sinking or settling concrete slab woes! We are happy to answer any and all of your questions. Contact us today to get started!
We service all homeowners residing in: Weatherford, Guthrie, Woodward, Ponca City, Enid, Watonga, Alva, Blackwell, Clinton, Kingfisher, Perry, Newalla, Wellington and nearby in Oklahoma & Kansas.